Heated Commercial Storage in Calgary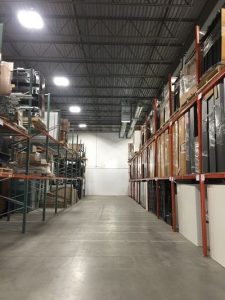 Constructive Works has the perfect heated storage solution for all your commercial or office equipment needs.
We can store any type of office or commercial equipment such as desks, cubicles, filing cabinets, computers, printers, or anything else you don't need to use right now. If you have some extra retail inventory that you can't sell, we can find some space for that too. Maybe your business has downsized and you don't need as much physical space right now, but you want to keep your options open in case you grow your business in the future.
We have thousands of square feet of available storage space, whether you need floor space or rack storage. Our location is clean, safe, and secure, so you never have to worry about your valuable office equipment or furniture.
Our heated Calgary commercial storage facility is perfect for corporations, small businesses, and entrepreneurs who want to hold on to their expensive business assets, but don't have anywhere to put them for the short term or the long term.
We have qualified and trained forklift operators to move our inventory around, and we have adjustable steel racks, so we can customize our storage space to suit your business needs and make it easier to manage.
We even have our own trucks that can pick up and deliver your product to and from our warehouse, and we have the capabilities to offer cross docking from highway trailers to smaller in-town delivery trucks.
Constructive Works is easily accessible from Deerfoot and Barlow trail near the Deerfoot Inn Casino.
Give us a call to learn more about our Calgary storage facility and get a competitive quote that fits your budget.